Shock Absorber Kit Front & Rear Set of 4 for 99-04 Jeep Grand Cherokee
10 Year Warranty Guaranteed Correct Part High Quality
| | |
| --- | --- |
| Brand/Part #: | AM Autoparts 1ASSP00105 |
| Location: | Gardner, Kansas, US |
| Ship To Locations: | US - FREE SHIPPING |
99% of orders shipped within 24 hours
Always Free Shipping with your AM-AutoParts orders.
Lowest price on brand new, in-the-box auto parts.
---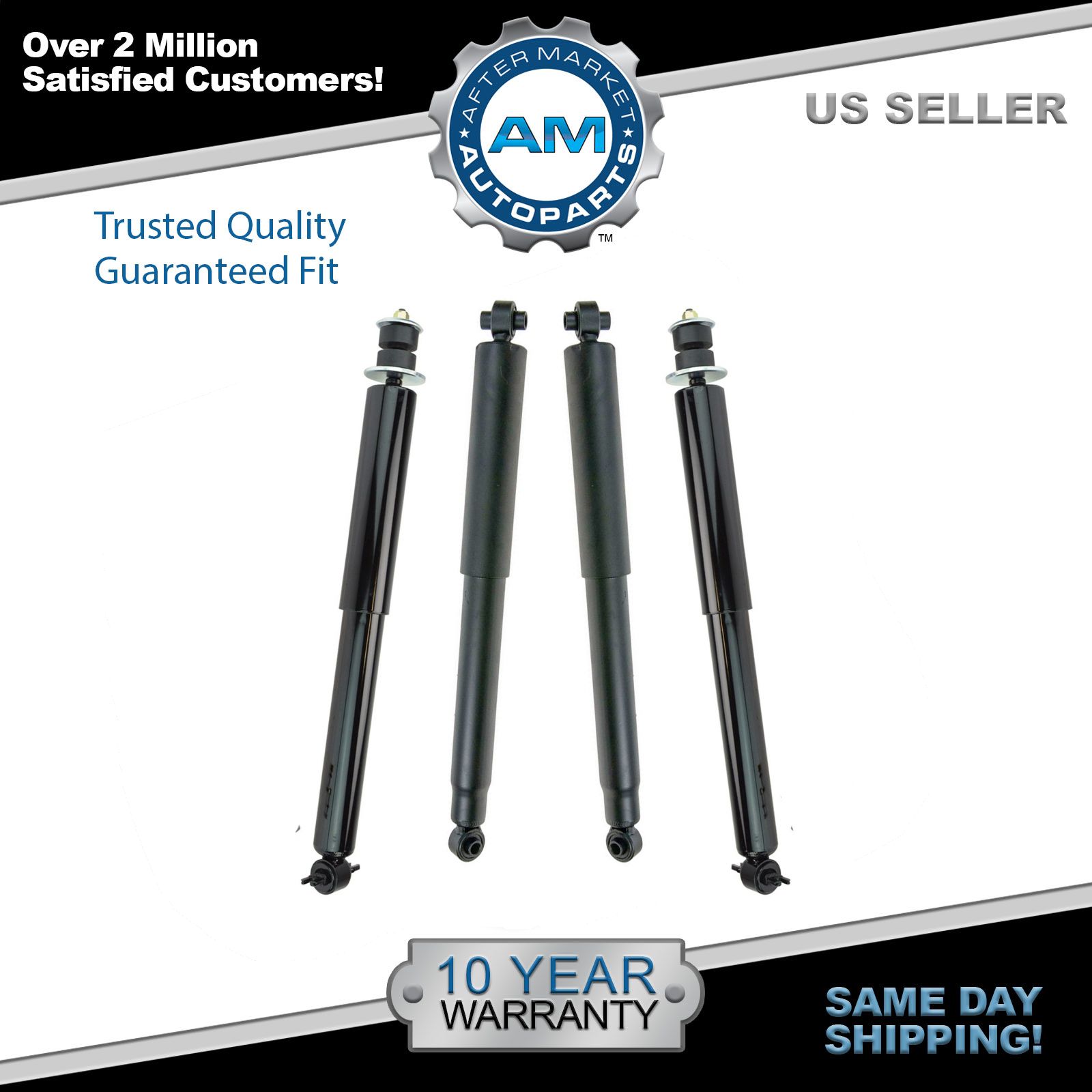 ---
Shock Absorber Kit Front & Rear Set of 4 for 99-04 Jeep Grand Cherokee
---
Detailed Applications
Set Quantity:
Shocks and Struts Features & Benefits:
Direct Fit
Matched Parts
Rigorously Tested
Saves Time & Money
Our shock absorbers are gas-charged and direct replacements for the original factory parts.
10 Year Warranty
This item is backed by our 10-year warranty. In the event this item should fail due to manufacturing defects during intended use, we will replace the part free of charge. This warranty covers the cost of the part only.
Please note: Any modifications to an item of any kind before contacting us will void any and all warranty coverage for this item. Please contact us before modifying the part so that we have the opportunity to correct the situation.
Attention California Customers:

WARNING: This product can expose you to chemicals including Chromium (Hexavalent Compounds), which is known to the State of California to cause cancer, and birth defects or other reproductive harm. For more information, go to www.P65Warnings.ca.gov.
Fits:
1999-04 Jeep Grand Cherokee without Up Country Suspension Driver & Passenger Side Shock Absorber Set
---
General Policies
If you have a question about a part you should contact us before buying. AM Autoparts is proud to offer you the best price and fastest service for all your aftermarket parts needs. In order to keep our prices low, we have the following purchasing policies:
Returns:

We only warranty cost of parts. Any installation or other fees are non-refundable.
If the buyer needs to cancel or return the item, the buyer must begin the transaction in My eBay

Questions:

We're here for you!
We are proud to offer quality service and we want your transaction to go perfectly. Take advantage of our customer service representatives who are here to help you; contact us on eBay. Thank you for your interest and we hope to do business with you!
Restocking Fee: No
Returns Accepted: Returns Accepted
Item must be returned within: 60 Days
Refund will be given as: Money back or replacement (buyer's choice)
Return shipping will be paid by: Seller
Brand: AM Autoparts
Placement on Vehicle: Front
Manufacturer Part Number: AM-873181275
Other Part Number: AM-873181275
Adjustable: No
Fitment Type: Direct Replacement
Gas Charged Shock: Yes
Interchange Part Number: 1999 2000 2001 2002 2003 2004 Grand Cherokee Jeep 344341 344342
Product Type: Strut Assembly
Superseded Part Number: 1999 2000 2001 2002 2003 2004 Grand Cherokee Jeep Kit Set
Warranty: 10 Year
UPC: 192659595706
SKU: 1ASSP00105
Shock Absorber Kit Front & Rear Set of 4 for 99-04 Jeep Grand Cherokee fits on the following vehicles. This is for your reference only, please check your auto manual to make sure it fits.
YEAR
MAKE
MODEL
TRIM
NOTES
2004
Jeep
Grand Cherokee
Laredo Sport Utility 4-Door 4.0L 242Cu. In. l6 GAS OHV Naturally Aspirated
without Up Country Suspension, 1999-04 Jeep Grand Cherokee Shock Absorber Set
2004
Jeep
Grand Cherokee
Laredo Sport Utility 4-Door 4.7L 287Cu. In. V8 GAS SOHC Naturally Aspirated
without Up Country Suspension, 1999-04 Jeep Grand Cherokee Shock Absorber Set
2004
Jeep
Grand Cherokee
Limited Sport Utility 4-Door 4.0L 242Cu. In. l6 GAS OHV Naturally Aspirated
without Up Country Suspension, 1999-04 Jeep Grand Cherokee Shock Absorber Set
2004
Jeep
Grand Cherokee
Limited Sport Utility 4-Door 4.7L 287Cu. In. V8 GAS SOHC Naturally Aspirated
without Up Country Suspension, 1999-04 Jeep Grand Cherokee Shock Absorber Set
2004
Jeep
Grand Cherokee
Overland Sport Utility 4-Door 4.7L 287Cu. In. V8 GAS SOHC Naturally Aspirated
without Up Country Suspension, 1999-04 Jeep Grand Cherokee Shock Absorber Set
2004
Jeep
Grand Cherokee
SE Sport Utility 4-Door 4.0L 242Cu. In. l6 GAS OHV Naturally Aspirated
without Up Country Suspension, 1999-04 Jeep Grand Cherokee Shock Absorber Set
2004
Jeep
Grand Cherokee
Special Edition Sport Utility 4-Door 4.0L 242Cu. In. l6 GAS OHV Naturally Aspirated
without Up Country Suspension, 1999-04 Jeep Grand Cherokee Shock Absorber Set
2004
Jeep
Grand Cherokee
Special Edition Sport Utility 4-Door 4.7L 287Cu. In. V8 GAS SOHC Naturally Aspirated
without Up Country Suspension, 1999-04 Jeep Grand Cherokee Shock Absorber Set
2003
Jeep
Grand Cherokee
Laredo Sport Utility 4-Door 4.0L 242Cu. In. l6 GAS OHV Naturally Aspirated
without Up Country Suspension, 1999-04 Jeep Grand Cherokee Shock Absorber Set
2003
Jeep
Grand Cherokee
Laredo Sport Utility 4-Door 4.7L 287Cu. In. V8 GAS SOHC Naturally Aspirated
without Up Country Suspension, 1999-04 Jeep Grand Cherokee Shock Absorber Set
2003
Jeep
Grand Cherokee
Limited Sport Utility 4-Door 4.0L 242Cu. In. l6 GAS OHV Naturally Aspirated
without Up Country Suspension, 1999-04 Jeep Grand Cherokee Shock Absorber Set
2003
Jeep
Grand Cherokee
Limited Sport Utility 4-Door 4.7L 287Cu. In. V8 GAS SOHC Naturally Aspirated
without Up Country Suspension, 1999-04 Jeep Grand Cherokee Shock Absorber Set
2003
Jeep
Grand Cherokee
Overland Sport Utility 4-Door 4.7L 287Cu. In. V8 GAS SOHC Naturally Aspirated
without Up Country Suspension, 1999-04 Jeep Grand Cherokee Shock Absorber Set
2002
Jeep
Grand Cherokee
Laredo Sport Utility 4-Door 4.0L 242Cu. In. l6 GAS OHV Naturally Aspirated
without Up Country Suspension, 1999-04 Jeep Grand Cherokee Shock Absorber Set
2002
Jeep
Grand Cherokee
Laredo Sport Utility 4-Door 4.7L 287Cu. In. V8 GAS SOHC Naturally Aspirated
without Up Country Suspension, 1999-04 Jeep Grand Cherokee Shock Absorber Set
2002
Jeep
Grand Cherokee
Limited Sport Utility 4-Door 4.0L 242Cu. In. l6 GAS OHV Naturally Aspirated
without Up Country Suspension, 1999-04 Jeep Grand Cherokee Shock Absorber Set
2002
Jeep
Grand Cherokee
Limited Sport Utility 4-Door 4.7L 287Cu. In. V8 GAS SOHC Naturally Aspirated
without Up Country Suspension, 1999-04 Jeep Grand Cherokee Shock Absorber Set
2002
Jeep
Grand Cherokee
Overland Sport Utility 4-Door 4.7L 287Cu. In. V8 GAS SOHC Naturally Aspirated
without Up Country Suspension, 1999-04 Jeep Grand Cherokee Shock Absorber Set
2002
Jeep
Grand Cherokee
Sport Sport Utility 4-Door 4.0L 242Cu. In. l6 GAS OHV Naturally Aspirated
without Up Country Suspension, 1999-04 Jeep Grand Cherokee Shock Absorber Set
2002
Jeep
Grand Cherokee
Sport Sport Utility 4-Door 4.7L 287Cu. In. V8 GAS SOHC Naturally Aspirated
without Up Country Suspension, 1999-04 Jeep Grand Cherokee Shock Absorber Set
2001
Jeep
Grand Cherokee
Laredo Sport Utility 4-Door 4.0L 242Cu. In. l6 GAS OHV Naturally Aspirated
without Up Country Suspension, 1999-04 Jeep Grand Cherokee Shock Absorber Set
2001
Jeep
Grand Cherokee
Laredo Sport Utility 4-Door 4.7L 287Cu. In. V8 GAS SOHC Naturally Aspirated
without Up Country Suspension, 1999-04 Jeep Grand Cherokee Shock Absorber Set
2001
Jeep
Grand Cherokee
Limited Sport Utility 4-Door 4.0L 242Cu. In. l6 GAS OHV Naturally Aspirated
without Up Country Suspension, 1999-04 Jeep Grand Cherokee Shock Absorber Set
2001
Jeep
Grand Cherokee
Limited Sport Utility 4-Door 4.7L 287Cu. In. V8 GAS SOHC Naturally Aspirated
without Up Country Suspension, 1999-04 Jeep Grand Cherokee Shock Absorber Set
2000
Jeep
Grand Cherokee
Laredo Sport Utility 4-Door 4.0L 242Cu. In. l6 GAS OHV Naturally Aspirated
without Up Country Suspension, 1999-04 Jeep Grand Cherokee Shock Absorber Set
2000
Jeep
Grand Cherokee
Laredo Sport Utility 4-Door 4.7L 287Cu. In. V8 GAS SOHC Naturally Aspirated
without Up Country Suspension, 1999-04 Jeep Grand Cherokee Shock Absorber Set
2000
Jeep
Grand Cherokee
Limited Sport Utility 4-Door 4.0L 242Cu. In. l6 GAS OHV Naturally Aspirated
without Up Country Suspension, 1999-04 Jeep Grand Cherokee Shock Absorber Set
2000
Jeep
Grand Cherokee
Limited Sport Utility 4-Door 4.7L 287Cu. In. V8 GAS SOHC Naturally Aspirated
without Up Country Suspension, 1999-04 Jeep Grand Cherokee Shock Absorber Set
1999
Jeep
Grand Cherokee
Laredo Sport Utility 4-Door 4.0L 242Cu. In. l6 GAS OHV Naturally Aspirated
without Up Country Suspension, 1999-04 Jeep Grand Cherokee Shock Absorber Set
1999
Jeep
Grand Cherokee
Laredo Sport Utility 4-Door 4.7L 287Cu. In. V8 GAS SOHC Naturally Aspirated
without Up Country Suspension, 1999-04 Jeep Grand Cherokee Shock Absorber Set
1999
Jeep
Grand Cherokee
Limited Sport Utility 4-Door 4.0L 242Cu. In. l6 GAS OHV Naturally Aspirated
without Up Country Suspension, 1999-04 Jeep Grand Cherokee Shock Absorber Set
1999
Jeep
Grand Cherokee
Limited Sport Utility 4-Door 4.7L 287Cu. In. V8 GAS SOHC Naturally Aspirated
without Up Country Suspension, 1999-04 Jeep Grand Cherokee Shock Absorber Set